"Do You Want Chemical Capes and Color Capes That Last?"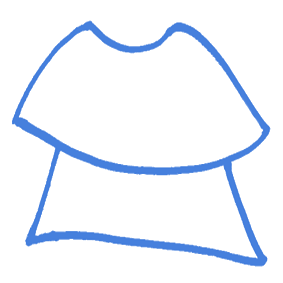 If you're looking for top quality hair color capes and chemical capes, you're search is over. Our chemical capes provide unmatched performance and durability for hairdressers and salon owners, along with the ultimate in protection and comfort for your clients.
Our chemical capes and color capes offer advanced fabric protection, durability and comfort. Our hair color capes have been designed by salon professionals to fix the issues you find with other chemical capes, shampoo capes, and color capes.
When you need reliability, comfort, and quality, a chemical cape from Saloncapes.com provides the best blend of value, style, and durability. And we also offer custom chemical capes and personalized color capes for your salon.
What Makes Our Chemical Capes and Color Capes Better?
Our chemical capes are made from an advanced fabric and not from traditional plastic or vinyl. This makes them much lighter weight and comfortable for your clients, even during longer services like keratin treatments and double processes.

Don't let the lighter weight fool you! These hair color capes last and are completely water and chemical proof. They are also safe to wash and dry at any temperatures. No more melted, cracked or peeling chemical capes!

Our color capes are BIG (50"x 60"), larger than traditional chemical capes. The larger size allows for complete coverage of both the client and chair.

The neck on all of our chemical capes will fit everyone from a small child's 9" neck all the way up to a 24" neck for your largest clients.

All of our hair color capes have 9 snaps, instead of the typical 6 snaps found on most capes. And the snaps are only 1" apart instead of the typical 1.5"-2" apart. This allows you to get a snug fit on all neck sizes.

The longer back flaps allow our chemical capes to wrap around the chair completely. This leaves the snaps out of your way for you to work on your clients' hair without interference.
Once you use our chemical capes and color capes you'll never go back to plastic again! Click here if you are interested in Snap Robes, Wraparound Robes, or Zip Front Robes with the same chemical proof fabric built in.
"Each one of us is very satisfied... Excellent quality and we will be ordering more of the chemical capes. Thank you for a fantastic product."
~Sharon M., Posh Salon
Because we use only the highest quality materials to make our hair color capes and chemical capes they are the longest lasting color capes you will ever use. And because you are buying direct from the manufacturer, you get the best prices. Order today and experience the Saloncapes.com difference.
Order your chemical capes and hair color capes today!