"Do You Want Haircut Capes That Cover The Whole Chair?"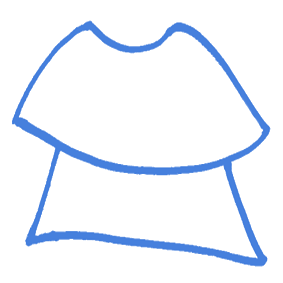 Saloncapes.com offers haircut capes, hair cutting capes, and hairdressing capes that have been designed by stylists and barbers to eliminate the common problems most hair cutting capes suffer from.
Below are just a few of the great features our haircut capes and hair cutting capes offer:
All of our haircut capes are HUGE! They measure 60"x60", which gives you complete coverage of both the client and chair.

The neck on all of our barber capes and hair capes will fit everyone from a small child's 9" neck all the way up to a 24" neck for your largest clients.

Every haircut cape and barber cape has 9 rust-proof snaps that are only 1" apart, instead of the typical 6 snaps that are up to 2" apart on most capes.

This allows you to get a comfortable fit on all neck sizes. No more using a hair clip to tighten up the fit!

The elongated back flaps allow our hairdressing capes to wrap around the chair completely, leaving the snaps out of your way and a flat back for you to work on your clients' hair.

All haircut capes are lightweight and comfortable, allowing your clients to stay cool even during longer services.

Our hairdressing capes are washer/dryer safe and are made from the highest quality materials here in the United States so they last and last, giving you more value for your money.
"All of the hair cutting capes I got were awesome and the customer service here was top notch. I look forward to purchasing more from them in the future!"
~Kate J., Chroma K8 Beautique
No matter if you need hair cutting capes, hair capes or hairdressing capes, Saloncapes.com will give you the best products and service you have ever had. Remember that we can also make a cutting cape with your exact logo. A customized salon cape gives your salon, stylist station, or barber shop that extra professional look your clients will love.
Order your hair cutting capes and haircut capes now!