Salon Capes and Barber Capes
"Looking For Salon Capes and/or Barber Capes that Last?"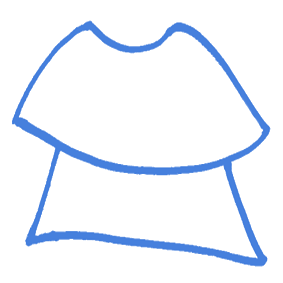 No matter if you're looking for hair cutting capes or beauty salon capes, Saloncapes.com has the highest quality hair cutting capes, chemical capes, shampoo capes and barber capes available for salon professionals.
All of our salon capes and chemical capes are oversized to allow for superior coverage on any size client. The large design also allows for complete coverage of the chair and wraps around to leave a clean surface for you to work on your client's hair without the cape getting in the way.
The neck is designed to fit all neck sizes from 9" up to a 24", and the 9 rust-proof snaps are only 1" inch apart so that you get a precise fit on everyone, from small children all the way to your largest clients.
Hair Cutting Capes, Beauty Salon Capes and Chemical Capes are Lightweight
All of our capes are lightweight so that clients are not hot while wearing them, and they are completely washer and dryer safe at all temperatures.
We use only the highest quality materials to give you maximum durability and value, and all of our products are made in the U.S.A.
Want to create your own custom hair cutting capes or barber capes?
Please visit the Personalized Hair Cutting Capes area of our site for more information about custom capes, or call us anytime at 800-682-4269 and we will be glad to assist you personally.
"Do not hesitate, best hair cutting capes I've ever owned. My clients really like them, too. Wash like a dream, sturdy and lay flat as advertised."
~Maryam H., Koi Pod Salon
Whether you're looking for hair cutting capes or barber capes, we have the highest quality products at manufacturer-direct prices. We can also make customized barber capes and cutting capes with your exact logo. Custom capes will give your salon, stylist station or barber shop an extra professional look.
Order your hair cutting capes, barber capes and chemical capes today!